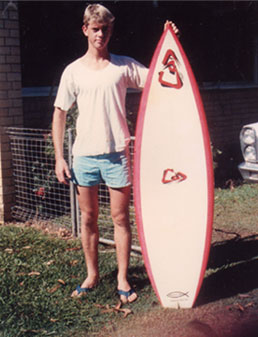 Paul Uscinski with one of his early creations.
Cod Surfing Company Australia was started in early 1984 by two surf stoked grommets, Danny Miau and Paul Uscinski. Living in Redland Bay, Dan and Paul would hitchhike over to North Stradbroke Island, only a short barge trip away, surfing endless summer perfection at Cylinders, Main Beach and Dan's favourite Frenchman's. As their passion for surfing grew, Dan soon started shaping a few boards for fun so sparking Paul's interest in shaping.

Just after picking up some blanks and glass from Burford's at the Gold Coast, their boards came flying off the roof of the car to smash beyond repair. They couldn't afford new boards, so their interest now became a necessity to shape their own surfboards.

Cod Surfboards became popular among the Straddie crew with local hottie Larry Woodward, showing through his powerful surfing, the awesome potential of the Cod shapes. With many more locals and regular visitors to the island, enjoying the now highly tuned Cod boards, orders started flowing in from both Coasts and Straddie, by word of mouth, from the many satisfied customers. Cod Surfboards have enjoyed a reputation for high quality, strong glassing and high performance shapes, which was a result of continual research and development by Paul Uscinski and the Cod team, from numerous coast trips and the hollow, powerful Straddie surf.